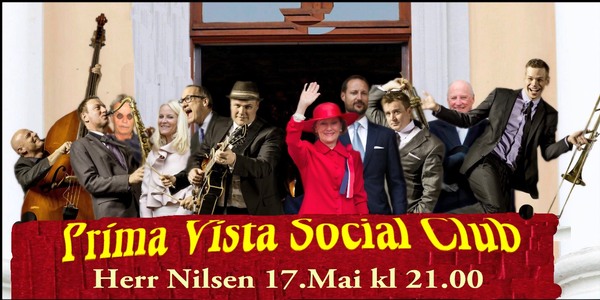 Prima Vista Social Club
Kr 200,- + avg. / 17.05.18 21:00

Del denne siden
From Oslo, Norway, now touring the world!
Get ready for THE most hard swingin' band on the planet!
Presenting six of the most hardworking entertainers in showbusiness. Consisting of Norway's most exquisite horn section, a burnin' rythm section, Svein Erik Martinsen's seductive vocal, their mixture of jumpswing, blues, New Orleans, boogaloo, rock'n roll, funk and humorous musical gag's has given them the reputation of beeing an extradinary «must see» live band. «Expect the unexpected!»
Svein Erik Martinsen Ånestad; vokal og gitar
Erik Eilertsen, trompet
Håvard Fossum, saksofon
Kristoffer Kompen, trombone
Jens Fossum, bass
Torstein Ellingsen, trommer
«The best band i've ever heard! Since yesterday!» – Stein Kagge
«Det er ikke mulig å bli skuffet.» – Bluesnews

neste ti konserter
Onsdag 22.08.18 20:00

Caledonia Jazzband
m/ Norbert Susemihl

Fredag 24.08.18 22:00

Lørdag 25.08.18 16:00

Lørdag 25.08.18 22:00

Søndag 26.08.18 20:00

Big Band Sunday:
Sandvika Storband m/ Mona Veum Bækkelund

Onsdag 29.08.18 20:00

Torsdag 30.08.18 21:00

Musicals Remixed
- kjente musikalhits i helt ny drakt!

Fredag 31.08.18 22:00

Østkanten Bluesklubb: Sister Suzie and The Right Band (UK)

Lørdag 01.09.18 16:00

Lørdag 01.09.18 22:00