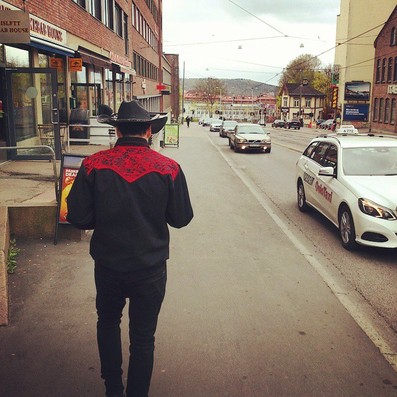 Il Brutto
Support: banda non grata
Kr 150,- + avg. / 20.06.15 22:00

Del denne siden
Il Brutto leverer spaghettiwestern-surf, country and rockabilly.
"Il Brutto and Banda non grata invites you to a thrilling ride into the dark and muddy swamps of Herr Nilsen!
You'll hear twangin' tones from the prairies, surfin' waves chrashing onto the beaches, and of course greasy flamenco og gypsyjazz played at it's finest.
You'll be enticed, swooned and swayed by the hypnotic rhythms of the drums, and taken for a ride you'll never forget.
Beware and enter at your own risk!"


neste ti konserter
Tirsdag 30.05.17 21:00

Onsdag 31.05.17 20:00

Fredag 02.06.17 22:00

Lørdag 03.06.17 16:00

Janice Harrington Brinck-Johnsen Quintet

Lørdag 03.06.17 22:00

Tirsdag 06.06.17 21:00

Onsdag 07.06.17 20:00

Øien, Garnes, Sefaniassen Eide trio

Torsdag 08.06.17 21:00

Cabaretgruppa Stilett: "Staten må ta ansvar"

Fredag 09.06.17 22:00

Lørdag 10.06.17 16:00