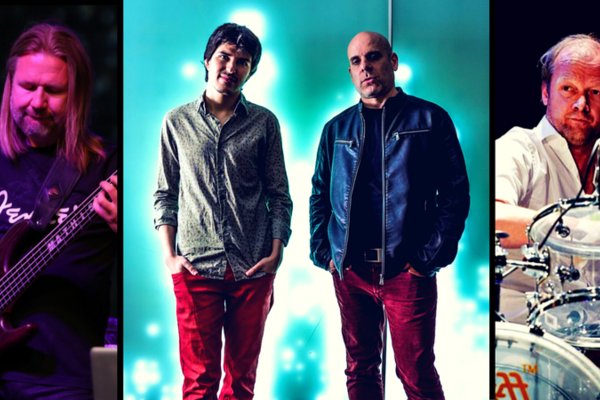 Niogi feat. Rune Arnesen & Per Mathisen (Isr/N)
Kr 200,- + avg. / 12.03.18 21:00

Del denne siden
Israelske Niogi er i byen for å spille inn plate i legendariske Rainbow Studio med bassist Per Mathisen og trommeslager Rune Arnesen. Da ble det selvsagt konsert på Herr Nilsen i samme slengen!
Fascinated by storytelling melodies and multi sectional compositions, Niogi sound is made of multiple layered acoustic instruments and synths, resulting in something new. In their own words: "as much as we respect computers, nothing beats the sensibilities of human playing. Whichever new instrument we're interested in, we'll always try to "de-computerised" it into its setup. It needs to become an organic part of our voice".
Israeli duo Niogi - Keyboardist Guy Shkolnik and Wind Instrumentalist Omri Abramov - return to Oslo for the first time after their previous visit in 2015 when the album 'Landing' was recorded. Bassist extraordinaire Per Mathisen returns to the lineup with a first appearance from drummer Rune Arnesen, both will join the duo the same week for the recording of a new album, collaborating again with the great Jan Erik Kongshaug at Rainbow Studio.
"Creative use of synthesizers is one of the most striking aspects of the sound….Core members Shkolnik and Abramov have provided a truly memorable set of tunes" - All about Jazz Magazine
Omri Abramov - Saxophone, AKAI EWI
Guy Shkolnik - Piano, Synths, ROLI Seaboard
Per Mathisen - Electric, Fretless and Acoustic Bass
Rune Arnesen - Drums, Percussion

neste ti konserter
Tirsdag 23.01.18 21:00

Onsdag 24.01.18 20:00

Christiania 12 m/ Lars Frank sax

Torsdag 25.01.18 20:00

Fredag 26.01.18 22:00

Østkanten Bluesklubb: Hungry John

Lørdag 27.01.18 16:00

Lørdag 27.01.18 21:00

Søndag 28.01.18 20:00

Big Band Sunday:
Sandvika Storband m/Eckhard Baur

Mandag 29.01.18 21:00

Tirsdag 30.01.18 21:00

Onsdag 31.01.18 20:00

Erling Aksdal trio m/ John Pål Inderberg