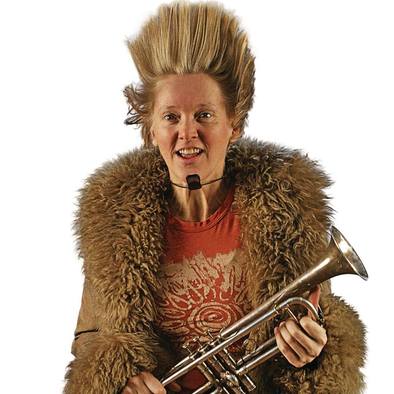 Yngvil Vatn Guttu
Kr 180,- + avg. / 08.07.16 21:30

Del denne siden
Yngvil er tilbake på Herr Nilsen, denne gang ikke med noe schvært band, men med en ny trio som vil gjenskape noen av Yngvil's fineste låter. ..Med seg på scenen har Yngvil bassist Sondre Mæland og Calu Carlos og du kan regne med at det kommer noen flere gjester opp etterhvert........
Yngvil Vatn Guttu is a Norwegian born composer, songriter, band leader and multi-instrumentalist. Educated in London and New York, she commutes between Norway, the US ( lower 48) and Alaska !
Her most recent album "On The Crosswalk" made it to number 5 in the American jazz charts ( CMJ) last year, and Yngvil has performed on stages as diverse as Broadway in New York and a Giraffe compound in South Africa.
Yngvil likes to move about, which makes maintaining a steady band a bit of a challenge. Yngvil solved this problem by starting POCKET JAZZ. POCKET JAZZ is like Air B'n'B for musicians - traveling independent musicians connect with local musicians wherever they go. THis time Yngvil found Calu and Sondre, and after some high grade musical speed dating they will present Yngvil's tunes and songs in new and refreshing ways...
Yngvil is the founder and director of Spenard JazzFest in Alaska, now in it's 10th year.

neste ti konserter
Tirsdag 30.05.17 21:00

Onsdag 31.05.17 20:00

Fredag 02.06.17 22:00

Lørdag 03.06.17 16:00

Janice Harrington Brinck-Johnsen Quintet

Lørdag 03.06.17 22:00

Tirsdag 06.06.17 21:00

Onsdag 07.06.17 20:00

Øien, Garnes, Sefaniassen Eide trio

Torsdag 08.06.17 21:00

Cabaretgruppa Stilett: "Staten må ta ansvar"

Fredag 09.06.17 22:00

Lørdag 10.06.17 16:00